Conveyor belt
Wednesday, May 17, 2006 - 14:25.
The connection tape comes used in order to supply a connection between more operating machines. The peripheral can operate with an external command or with a direct button sited on the tape.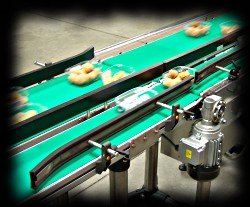 In coupling with the standard checkweigher and with the multichannel-sorter constitutes the answer - integrated in a single multifunction machine - to numerous needs of the modern manufacturing industry.
The tape of connection Nemesis HSC350 introduces a modular construction in the mechanical preparation and in electrical equipment and can be bound together to whichever product of series HSC350; the minimal configuration is constituted from the following modules:
Supporting framework with transport plan
Command switch or control panel
Auxiliary command devices and signalling devices
Version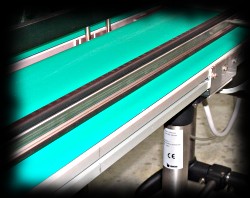 The tape of connection Nemesis HSC350 comes prepared in the following standard versions:
1E3-S50/xxx, the maximum capacity 25 Kg, useful width of confection transport from 50 to 700 millimeter, variable length millimeter, with a motorized group.
* 2E3-S50/xxx, with two channel also motorized with two independent groups, maximum range 25 Kg, useful width of confection transport from 50 to 700 mm for each channel, variable length, with a motorized group.
Customized versions are realizable on request in the respect of the normalized groups available, with a large range of accessories of completion and produced control.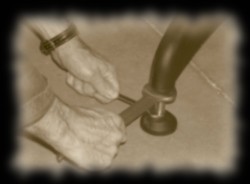 Structure
The conveyors are realized with modular structure and Nemesis normalized components in anodized aluminium and stainless steel. The construction privileges the maximum facility of maintenance allowing the taking apart of the conveyor in rapid way and without the use of equipment.
Power and speed
The nominal speed of the transports is equal to 30mt/min, but could be requested in the interval from 8 to 136 mt/min in function of maximum capacity and of the attended maximum cadence. The power of the motors is enough to assure a regular towing without annoying variations.